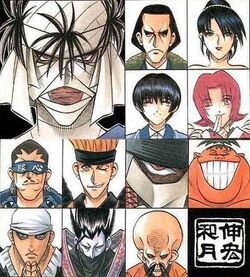 The Jūppongatana (十本刀,, Ten Swords?) is a special attack force of elite warriors assembled and commanded by Shishio Makoto for the purpose of leading his revolutionary army against the Meiji government. With Shishio's army behind them, they serve as the main antagonist group of the series' Kyoto Arc.
History
[
]
The Juppongatana are the main antagonists of the Kyoto Arc, and are gathered for the first time (except for Cho, who is in prison) in episode 44 of the anime series. A group of extremely skilled fighters and warriors, they are considered as some of the most powerful in all of the nation of Japan in the era of the Meiji, and as the most powerful within the ranks of Shishio's militia. Despite the tendency to rank the fighters in groups like this, none of the Juppongatana have an official rank, although they agree in some points: that Soujiro was the strongest and that Iwanbo was the weakest. Ultimately, the Juppongatana weren't just enforcers and commanding elites, as it was revealed that their ranks were mainly a buffer for Shishio's crippling weakness of his disabled perspiration giving him an extreme form of hyperthermia should he see strenuous physical activity for more than 15 minutes.
Each one of the Juppongatana has a different skill and fighting style, all of which is centered around the ideas of wielding a "sword" of some sort, either literally or metaphorically. Many within these elite ranks also hold different motivations for their allegiance, some with resentment against the Meiji government, some with admiration and respect for the goals of Shishio, others with nothing other than a burning grudge against Shishio, and some just there to show off their strengths for the thrill of it.
Members
[
]
The Juppongatana have 10 member that care commanded by Shishio Makoto.
Gallery
[
]